Have you ever searched and searched for a piece of furniture and just can't find what you're looking for?
That's clearly the case when I was looking for a round coffee table for our basement family room.
Today, we'll be sharing how to easily make a DIY round coffee table from an old dining table.
Because of the size of my sectional, I needed a 54″ diameter round coffee table.
And not only are they hard to come by, but when I found a few, they were terribly expensive or not the right style for my room.
So that meant we would DIY our own coffee table.
We tossed around some ideas for making our own, but with all of the projects we had to complete for the One Room Challenge, that just seemed too overwhelming.
Instead, we thought possibly we'd find a round dining table we could turn into a round coffee table with a farmhouse coastal feel.
And so the search began, looking for a round dining table that had a planked table top.
How Do You Make a Round Coffee Table Yourself?
If you'd like to actually build your own round coffee table there are several ideas and plans available on the web.
Here are some of our favorites:
How Do You Make a Coffee Table Out of a Dining Table?
So how do you go about making a coffee table out of a dining table?
First off, you'll search for a round table that doesn't have a seam for leaves.
This will make the coffee table look legit.
Clearly you don't want to have a seam run down the middle of the coffee table.
And you'll also want to look at the table base and see if you feel you can lower the height of the table easily.
The standard height for a coffee table is 16-18 inches and pairs well with a typical sized couch.
And it should be no lower than 1-2 inches from the seat of your couch.
Supplies
There are a few tools you will need to make a DIY round coffee table.
And a few supplies, if you need to refinish the coffee table.
This post contains affiliate links for your convenience. As an Amazon Associate I earn from qualifying purchases. See our disclosure for details.
Disassemble Dining Table
First, you'll want to disassemble your table.
Remove the tabletop from the legs or pedestal.
Pro tip: Put all of the hardware into a Ziploc bag. Nothing is more frustrating than loosing a screw.
Adjust Height for Round Coffee Table
We found our dining table on Facebook Marketplace.
The round plank tabletop was just what I was looking for, for my round farmhouse style coffee table
Once our table was disassembled, we first determined how tall the legs should be to achieve our desired height of 18″.
Then we marked the legs where the cut should be made.
As you can see in the photo of our table, the legs angle outward and have a slight angle cut on the bottom.
To achieve the same angle on each leg, we placed the leg against the blade and adjusted the angle of the saw to match the original angle of the leg.
Then we were able to cut down each leg to the correct height.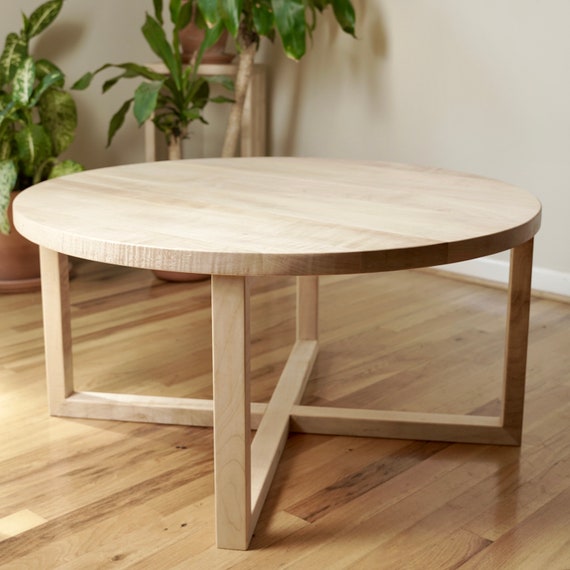 Cross-legged Coffee Table
from: Etsy
We then attached the trimmed legs to the tabletop to check the height and see if the table was stable.
It was fairly stable if you pushed on the edge, but when I had my son Aiden sit on the edge it tipped.
We thought this might happen, so we decided to add a cross bar at the bottom of the leg base.
Not only will this provide added stability to the table, but it also adds that farmhouse feel I also wanted.
We then removed the legs from the tabletop and sanded off the finish with the sander.
Stabilize the Table Base
To make the round coffee table stable we made a crossbar that will attached to the four table legs.
We measured the distance from the two table legs across from each other and added 8″ to that amount.
That will allow our crossbar to extend 4″ on each side past the legs.
For the crossbar, we used a piece of 1×6 pine and cut it to our desired length.
Next, using the table saw, we ripped the board to the width of the table leg and also made an angle cut at each end of the board.
Are you enjoying this post?!
Please Pin it, save it and share it with a friend.
Sharing is caring!

Reattach Table Legs
To attach the crossbar piece, place wood glue on the end of each leg.
And then insert a screw with a drill through the cross bar into the two table legs.

Attach Crossbar Section with Pocket Screw
For the crossbar piece that will go the opposite direction, cut the board to length, allowing it to extend 4″ past the table leg and flush with the other pine board.
Then using a pocket hole jig, make 2 pocket holes on the flat end of the board.
Next, add wood glue to the leg, place the board into position and attach with a screw.
Now align the crossbar piece and clamp it while you insert 2 pocket hole screws.
Repeat for the other side.
Let's stay connected! Follow us on social media!

Remove Old Finish
For our round farmhouse style coffee table we wanted a natural wood finish.
So the original plan was to use Minwax, Antique Furniture Refinisher to remove the old finish.
In particular, we like this product for removing a varnish or shellac finish.
It's much quicker and easier to use than a paint and varnish stripper.
You'll pour the refinisher into a glass or metal bowl and dip a piece of steel wool into the liquid and apply it with a circular motion as the finish dissolves.
However, this product will not work on a polyurethane finish.
If you're trying to strip off a polyurethane finish you'll need paint stripper.
This product did remove the varnish and stain, however I soon realized that this table was distressed much more than I like.
And I realized that we would need to sand the table top.
Now our tabletop has a wood veneer, so we carefully sanded as much of the distressed finish off the tabletop with an orbital sander, without going through the veneer.
If we would have realized that at first, we would've just sanded the tabletop.
Each table is unique, and may require a different method for refinishing the wood surface.
Stain Round Coffee Table
Once the tabletop was sanded, we removed the dust with a tack cloth and applied a wood conditioner.
This will ensure even coverage of the stain with a soft wood like pine.
And finally we applied Minwax special walnut stain.
The stain is applied with a brush and then wiped off with a lint free cotton cloth.
Somehow we forgot to take photos of this step.
We did not allow the stain to sit for very long, maybe 5 minutes at the most.
If you'd rather use a water-based stain, be sure to check out our tips for applying a water-based stain.
To achieve a weathered finish to the round coffee table top, we first applied a clear wax to the wood.

Apply Wax
Next we applied a white wax.
To make our own white wax, we placed clear wax on a paper plate and added a couple of tablespoons of white chalk paint.
Thoroughly mix the paint into the clear wax.
And apply the white wax to the tabletop with a waxing brush.
This will give the wood a weathered and aged look.
Allow the wax to dry completely.
Then buff the surface with a soft clean cotton cloth or with a buffer.
Reveal DIY Round Coffee Table
We are thrilled with the way this coffee table turned out.
The crossbar base of the round coffee table gives it that farmhouse coastal feel that I love!
I think I like this coffee table more than the glazed coffee table in my living room.

The large round coffee table is the perfect size for our large sectional.
Not only is it the perfect spot to kick back, put our feet up and watch a movie, but it's also great for family game nights.
I also love the finish we were able to achieve.
So, what do you think of our coffee table made from an old dining table?
Is this a project you'd like to try?
Do you like to re-imagine old furniture pieces?
Then take a look at our Modern Desk Makeover!
Are you enjoying this post?
Please Pin it, save it for later and share it with a friend.
Sharing is caring!
For another coffee table idea, check out this coffee table that was headed for the trash.
Did you find a little inspiration here today?
We find it so rewarding to take old discarded pieces and breathe new life into them.
One of our all time favorite pieces is Ellie's natural wood finished dresser.
What's your favorite piece you're transformed for your home?
Please share your thoughts and questions with us.
We love to hear from you!
If you're new here, WELCOME! We love having new readers and friends!
You can learn more about us here.
Let's stay connected!
Subscribe to our free newsletter so you don't miss any inspiration for your home.
Please PIN and save for later, and share with your friends!
Sharing helps grow our following!
Thanks for stopping by and as always here at Sunny Side Design…
WE HOPE TO BRING YOUR HOME TO THE SUNNY SIDE OF THE STREET.
Retailers We Love
Be sure to follow us on Pinterest for even more home decor and DIY ideas.
To see what we are working on before it's on our blog, follow us on Instagram.
You will also find our video tutorials on our YouTube channel.